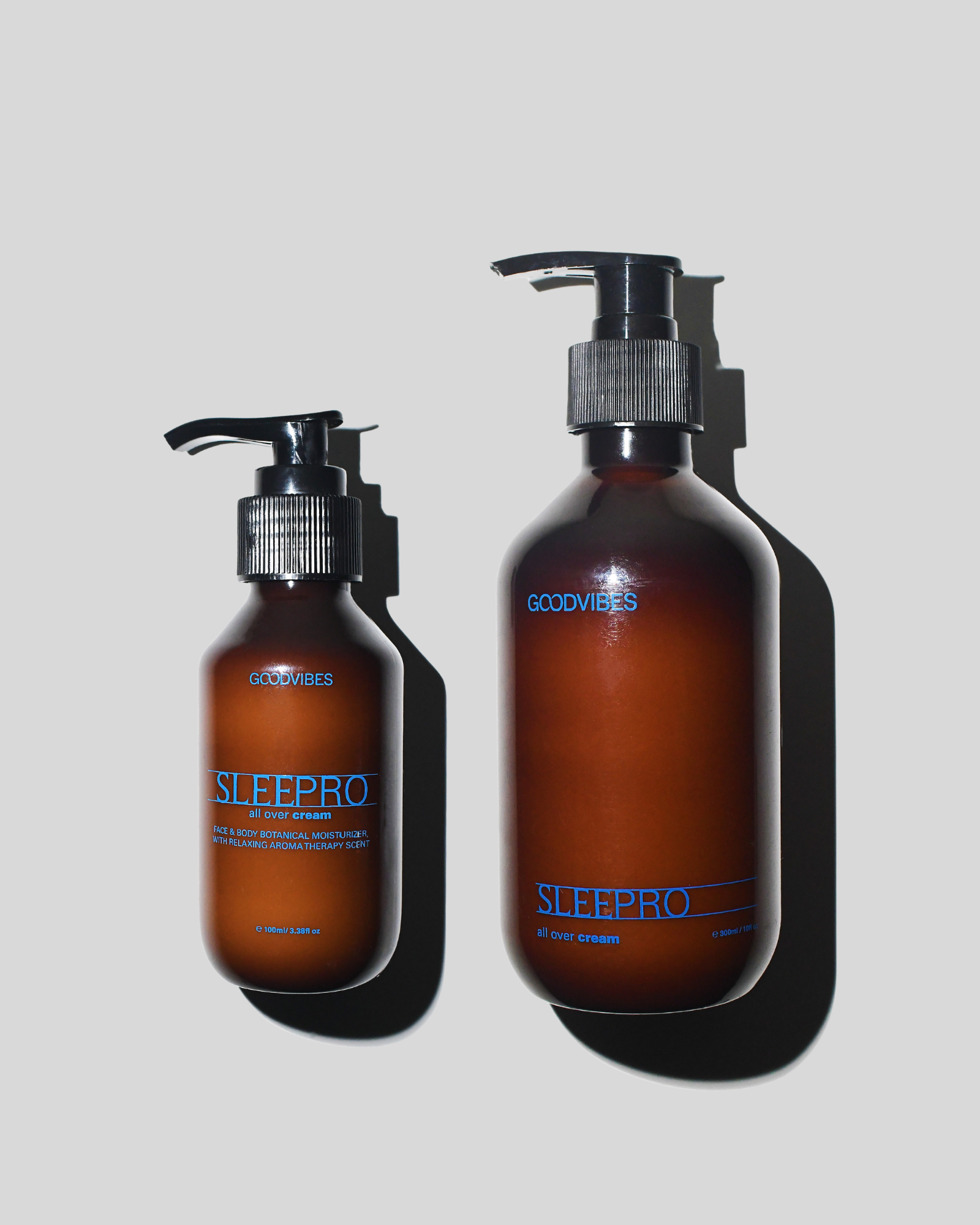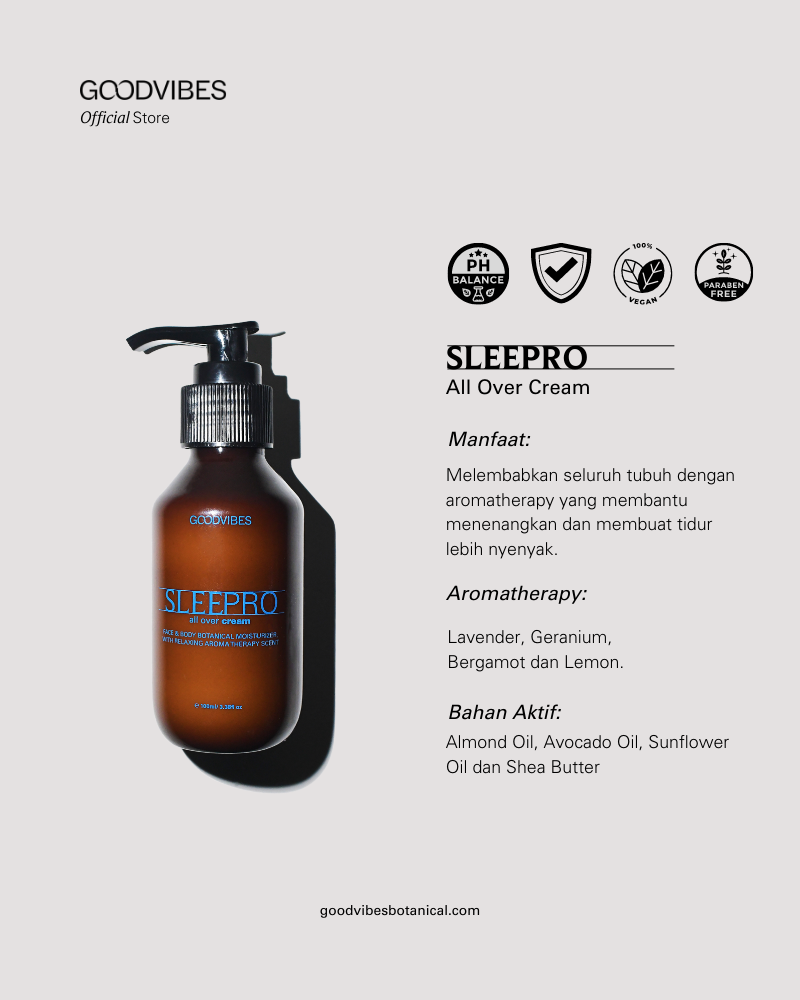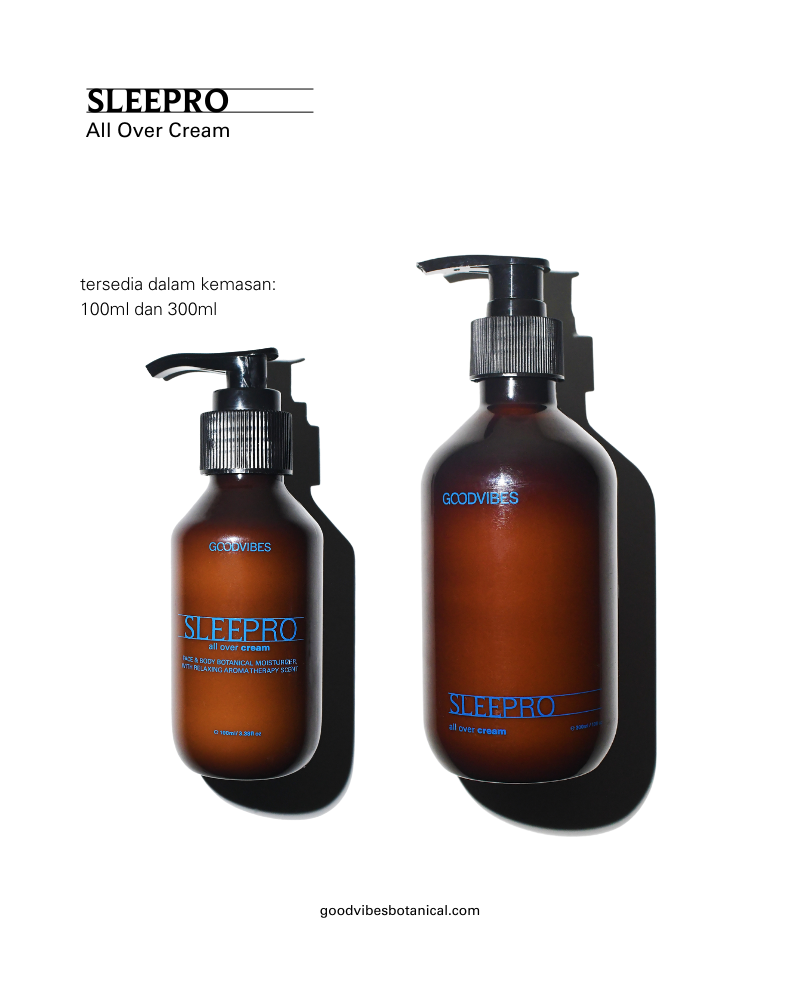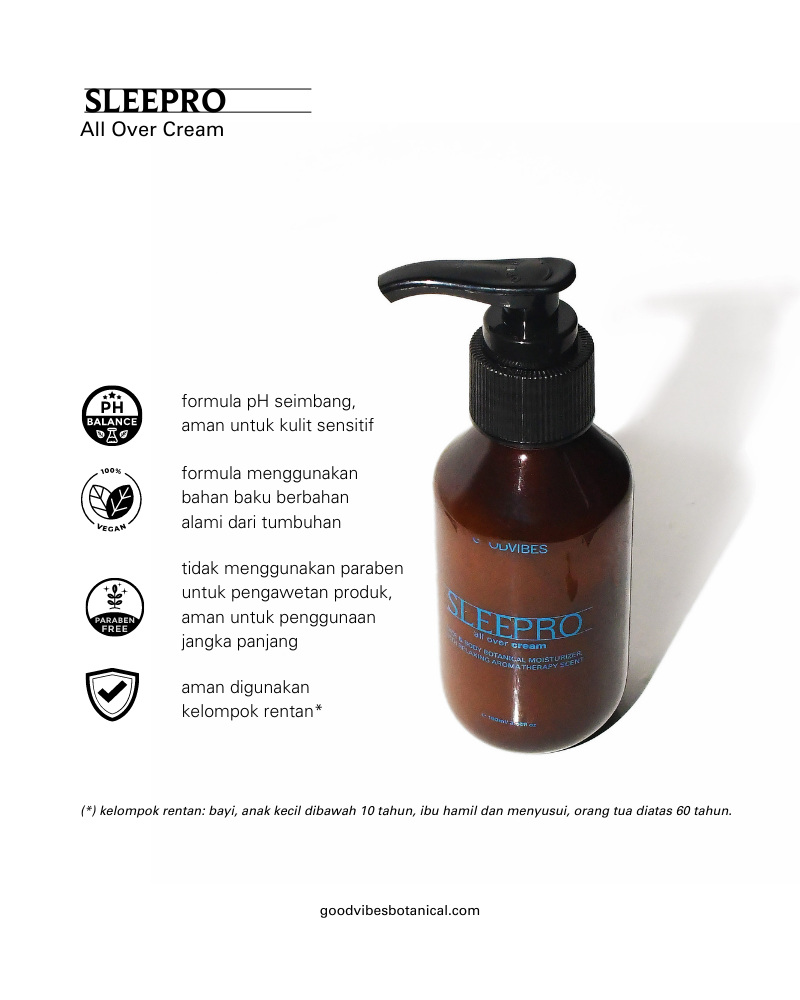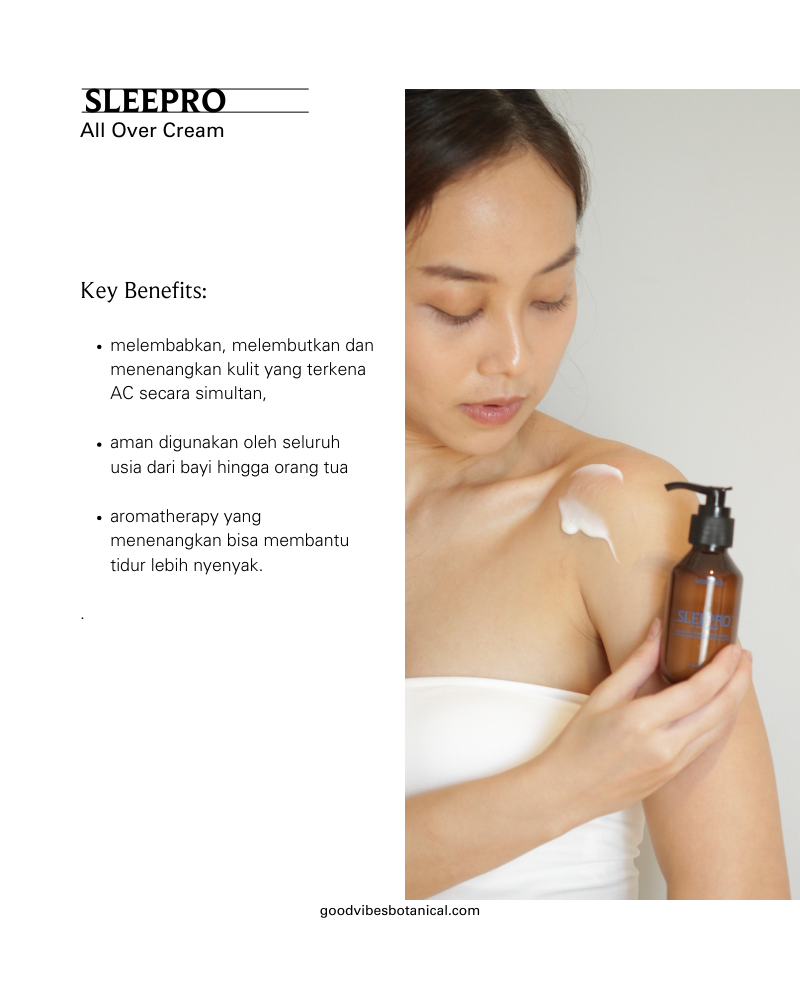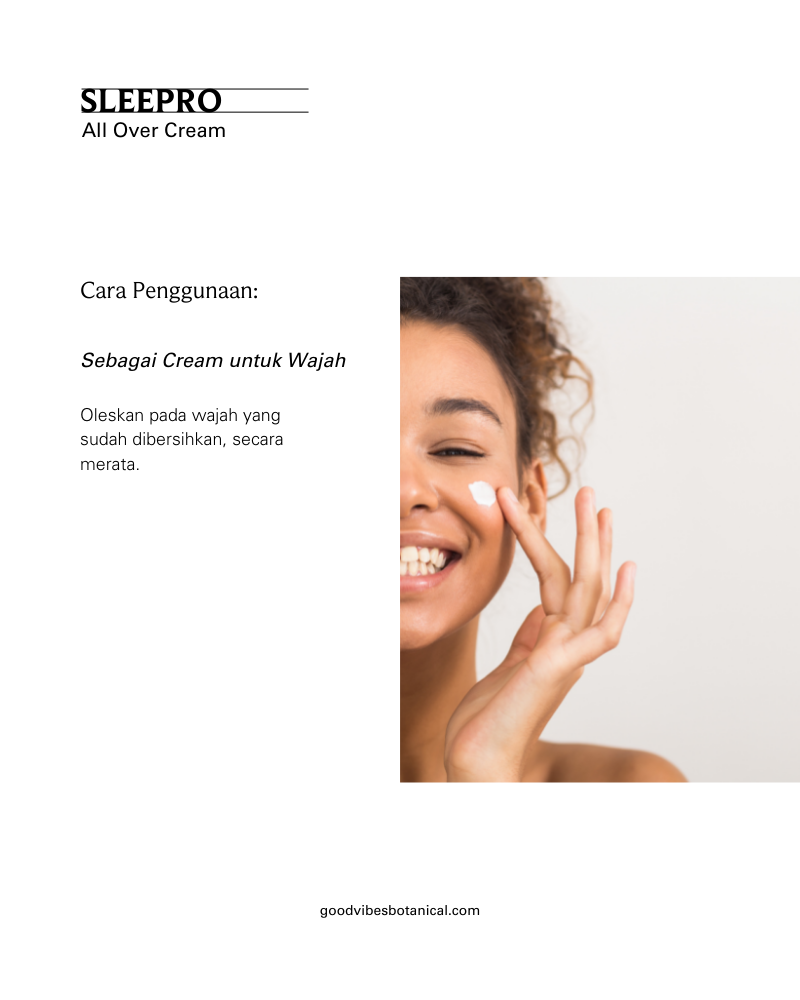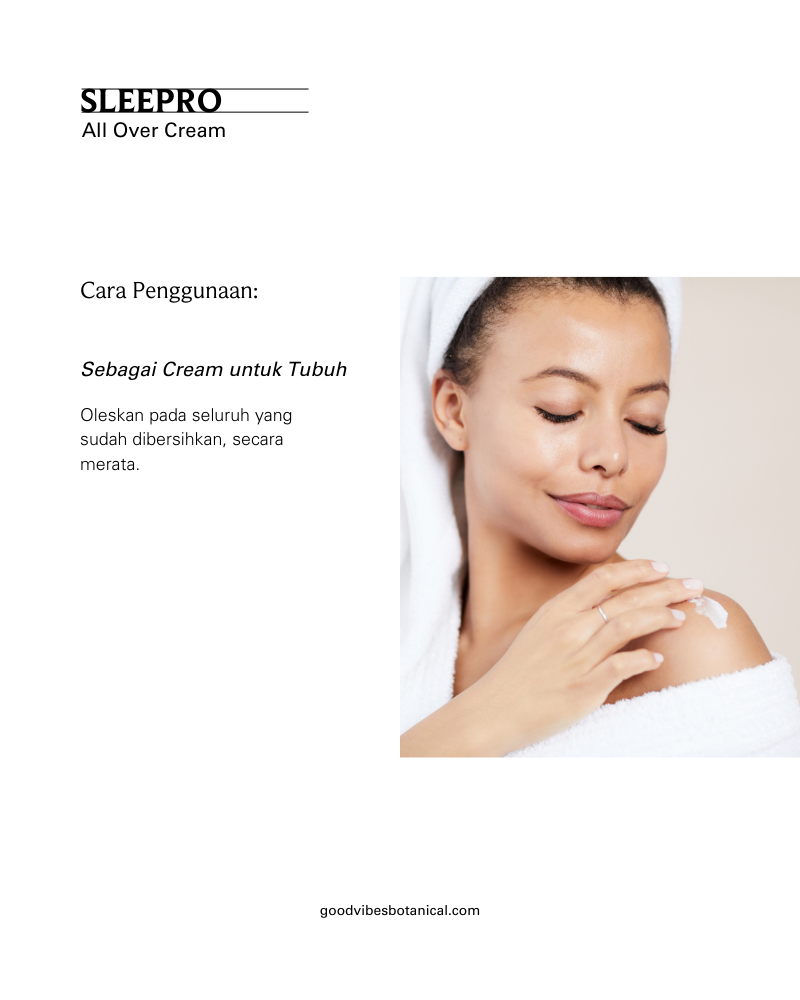 Sleepro All Over Cream
IDR 169.000
Regular price
off
Aromatherapy infused rich moisturizer with soothing and calming benefits for your face and body skin
The Details
Your skin needs repairing once every day just as your body needs vitamins to feel replenished again. You're living your dream but have to be stuck in an air-conditioned room for a long time which will fasten the transepidermal water loss that dries your skin and make it dull. You need a dream cream that does all of its wonders while you're asleep and what's more than this Sleepro All Over Cream.

Coming from a realization that your facial and body skin actually do have a similarity in their structure, we formulated something that can simplify your facial to a body skincare routine. Making it just as effective yet with a kick of relaxation effect that will enhance your sleep quality and habit.

The Sleepro All Over Cream is for everyone, because, who doesn't want to have quality sleep while a magical cream does its job overnight?
The Formula
Sleepro All Over Cream was made from 100% natural substances, and aims to moist and calm skin, suitable for all skin types from infants to elders, and aromatically helps you to sleep deeper.

The Cream: made from the soothing and moisturizing substance of Almond, Shea Butter, Avocado and Sunflower Oil

The Aromatherapy: Relaxing blend of Lavender, Geranium, Bergamot, and Lemon Oil, the blend that is proven to ease sleep anxiety and helps you to have the deeper sleep.
How to Use
Sleepro All Over Cream was made for every skin type BUT its soothing and relaxing effect makes it perfect to use at night before bedtime. We do recommend it to pair it with sleepro all-over wash to optimize the relaxation and benefit.
For Body: Kindly freshen up and exfoliate your skin with Sleepro All Over Wash and apply a decent amount of Sleepro All Over Cream when your skin is still damp allowing your skin to draw the maximum benefit from the soothing effect that comes out from the proven blend of relaxation aroma of Geranium, Lavender, and sweet orange.
For Face Area: After washing your face with your preferred facial foam/wash, take a smaller amount and apply it when your face is still rather damp so Sleepro All Over Cream can lock the moisture and make sure that your face is in the very best Ph Balance state from the moment you sleep until tomorrow morning. You will wake up with perfectly moistured and energized skin as you'll be ready to seize your day.
Ingredients
Aqua, Mangifera Indica (Mango) Seed Butter, Helianthus Aanuss (Sunflower) Oil, Cocos Nucifera (Coconut) Oil, Cetearyl Olivate, Sorbitan Olivate, Glycerine, Cyamopsis Tetragonoloba (Guar) Gum, Citrus Medica (Lemon) Oil, Lavandula Angustifolia (Lavender) OIl, Pelargonium Graveolens (Geranium) OIl,
Potassium Sorbate, Sodium Benzoate.