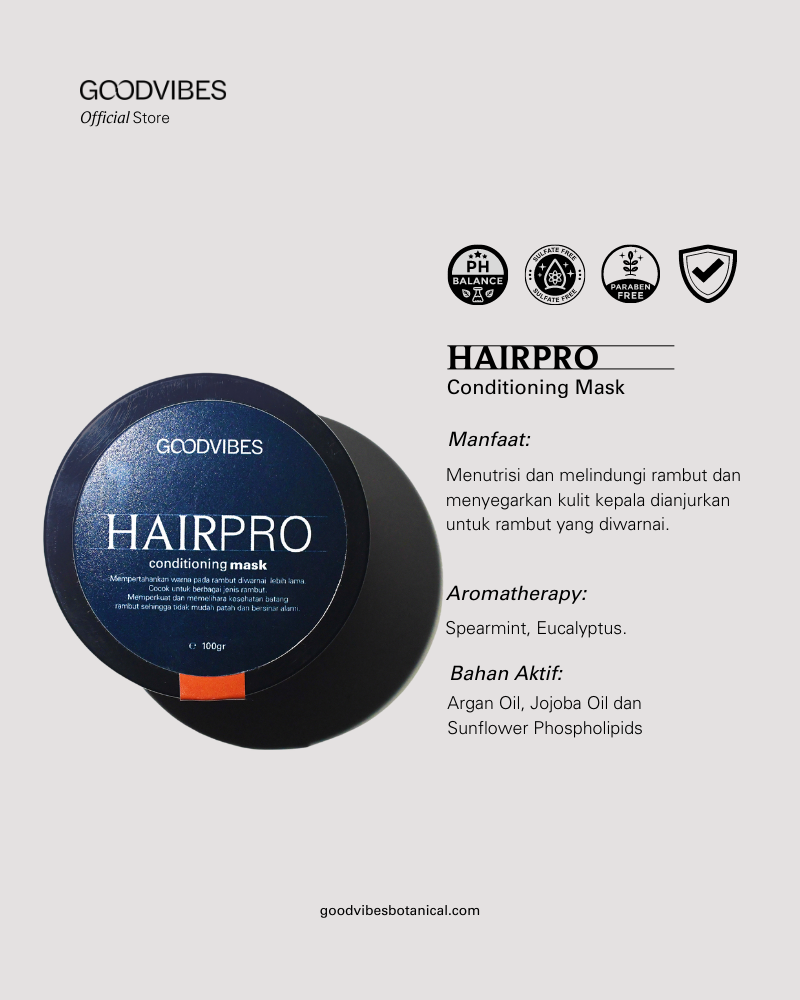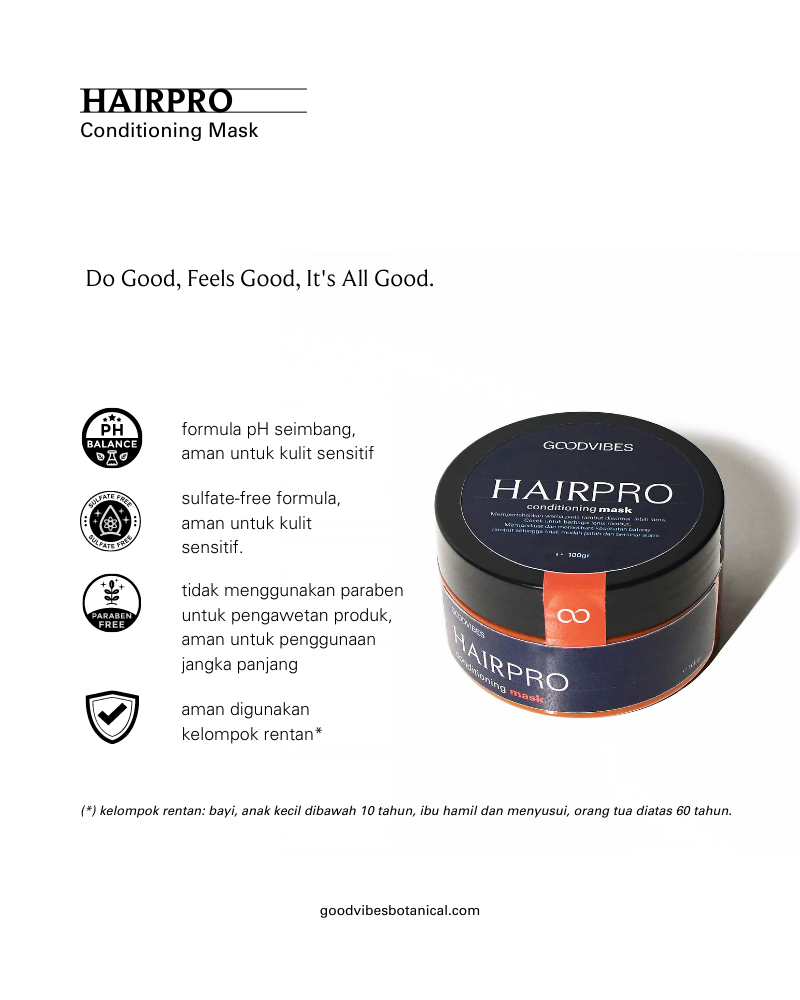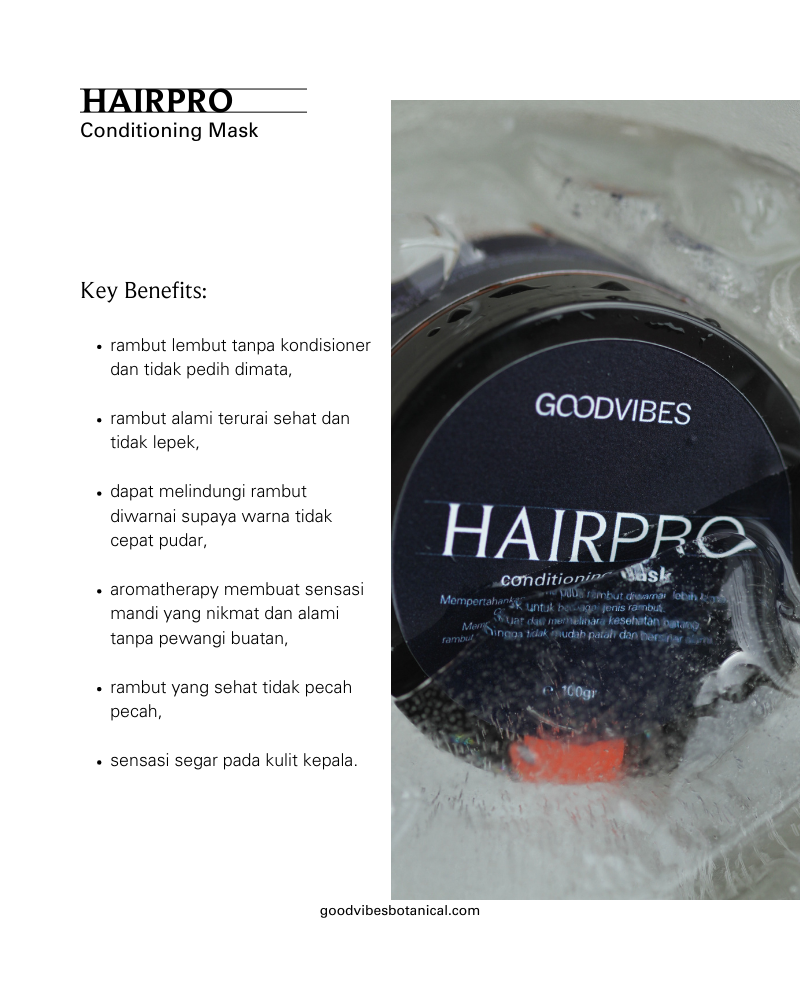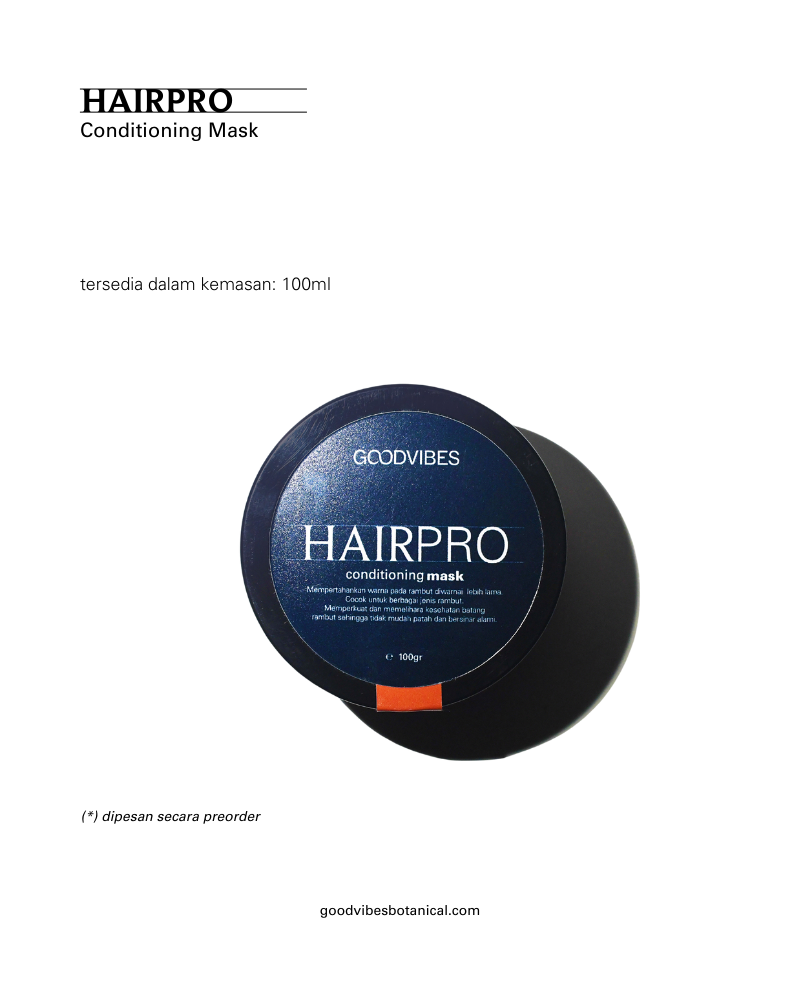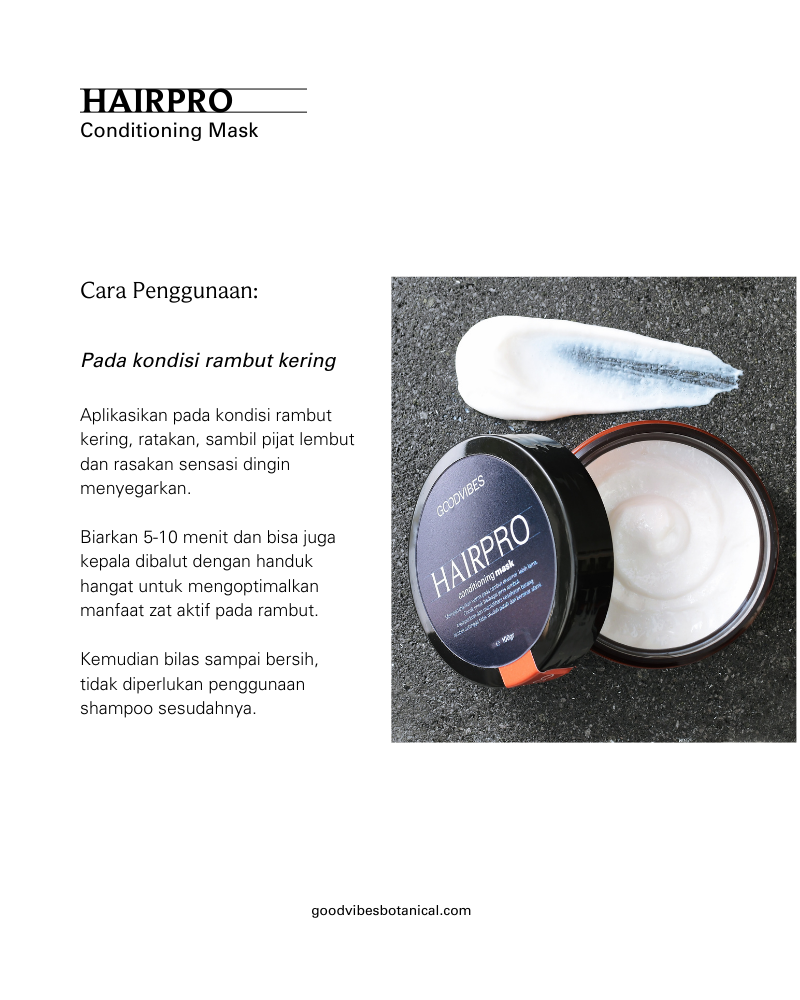 Hairpro Conditioning Mask
IDR 169.000
Regular price
off
Creamy-velvety hair mask with a cooling sensation to protect hair from pollutants and chemical substances die to coloring and nourish damage hair.
The Details
Our hair crown puts up with a lot. You blast it with heat, tie it in knots, subject it to chemical processes such as coloring, straightening, or curling treatments. Despite all of that you often fail to give you hair the same love and attention that we lavish upon our skin. Thankfully, Goodvibes Hairpro Conditioning mask can easily fix all of that maltreatment. How do we do it? Using a blend of Rosemary and Cypress which is activated by phospholipid, argan, and coconut oil, this mask can repair, re-protect, and rejuvenates without disrupting any chemical processes that's been going on in your hair.
The Formula
The Cream Base: made from the Argan, Jojoba and Coconut Oil blending in sulfate free surfactant at pH Balance level to be both the nourish the hair without build up the scalp with the oils and weight down the hair.
The Active for the Hair: Sunflohair is to protect the hair from the heat of hair dryer and sun rays, protect the colored hair for the color degrading and strengthen and shine the hair shaft, naturally.
The Aromatherapy: Refreshing aromatic from Spearmint and Eucalyptus essential oil compliment the sense with the best fresh scent naturally available that also giving benefit for both; nourishing the hair and and cleansing the scalp all at once.
How to Use
Use it post-shampoo. Apply on hair while it is still wet, and distribute thoroughly while enjoying the cooling sensation that refreshes your hair and scalp. Give it 1-2 minutes to give optimum protection to the hair shaft. Rinse and dry.
For normal-finer hair: Focus the product on the ends and drier part of your strands, avoiding the scalp.
For thicker, curlier hair: Apply the Conditioner all over—even let it sit for a few longer minutes while you work on each strand.
Ingredients
Distilled Water, Stearic Acid, Sodium Lauryl Sulfoacetate, Sodium Cocoyl Isethionate, Cocamidopropyl Betaine,  Disodium Laureth Sulfosuccinate, Cocos Nucifera (Coconut) Oil, Phospholipids (and) Helianthus Annuus (Sunflower) Seed Oil, Rosemarinus Officinicalis (Rosemary) Oil, Cypress OIl, Potassium Sorbate, Sodium Benzoate.